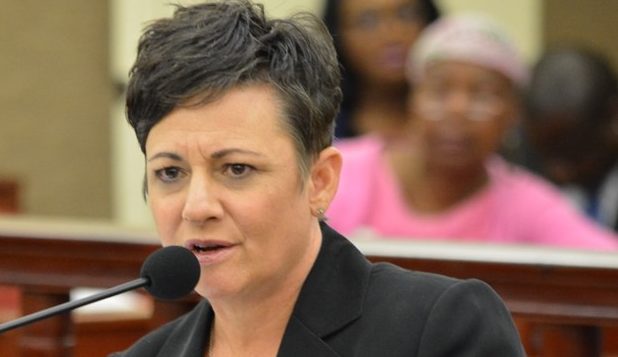 About 33,500 U.S. Virgin Islanders, or roughly one in three territory residents, get health care thanks to Medicaid, Human Services Commissioner Kimberley Causey-Gomez reported during Senate budget hearings Monday.
That number has risen steadily in recent years, due both to congressional action vastly increasing funding and lowering local matches and also to Human Services Department efforts to recruit providers and sign up new clients for the V.I. Medical Assistance Program that delivers Medicaid locally.
In 2021, Medicaid brought in $129 million in federal funding, Causey-Gomez told the Senate Committee on Finance. For FY 2022, it should bring in at least $126 million. That money provided and will provide medical care, and brought in almost $20 million in revenue to cash-starved USVI hospitals and smaller public health clinics. The money was pumped into the wider economy, indirectly generating tax revenue for the government.
Depending on politics, it also could potentially largely evaporate after 2023 if Congress does not act to extend current levels of funding, or if the USVI government fails to pay its match.
The territory does not have access to the healthcare exchanges made available to states by the 2010 Affordable Care Act, limiting health care options for those who cannot get it through work. But the USVI did get a bump in Medicaid funding with the ACA.
In 2009, before the Affordable Care Act's Medicaid increases, the USVI had 10,000 residents receiving Medicaid, according to data in the 2011 executive budget. To qualify, a family's income had to be extremely low. Total funding was just under $15 million in 2009.
In 2012, after the ACA and Medicaid expansion took effect, the USVI had 18,000 people in the program, according to Medicaid's website.
In early 2018, responding to the 2017 hurricanes, Congress approved $106.9 million in Medicaid funding for the territory and temporarily waived the matching requirement. If it meets certain milestones, the territory could get an additional $35.6 million.
In 2019, there were 29,013 Virgin Islanders getting Medicaid, Causey-Gomez told senators in budget testimony that year. Since then, the agency has signed up about 4,500 additional members.
"This massive program comes with immense responsibilities. For true quality assurance and to not place this program at risk, it is imperative to appropriately staff and fund the V.I. Medicaid program," Causey-Gomez said Monday.
The agency has been putting money into overseeing the new flow of money and staffing to sign up both members and medical providers.
"We have executed more than … 60 Medicaid provider agreements since February 1," she said. In all, Human Services has contracted with over 800 Medicaid providers, according to her testimony.
While Medicaid and the local Medical Assistance Program are the biggest programs under Human Services, the agency oversees a wide array of programs, from Head Start to Meals on Wheels, and is the second-largest component of the V.I. government, after the Education Department.
The agency is expecting a substantial, 31.9 percent budget increase for FY 2022.
Gov. Albert Bryan's budget proposes $75.1 million for Human Services from the V.I. government's General Fund. It also expects $291.7 million in federal funds, for a total of $369.3 million.
Thanks to the increase, Causey-Gomez said Human Services "will be able to tackle two very pressing issues: contracts and vacancies."
She said Human Services has been chronically underfunded for a number of years and the territory had to tighten its fiscal belt last year due to the COVID-19 pandemic.
"Being underfunded, however, puts millions of federal dollars that require a local match at risk and also strains our staff to the point of burnout. Even with the increased budget and a potential ability to bring much-needed positions back online, there is still a shortfall for critically needed hires. These positions would allow our programs to operate without a human resource capital deficit. Filling this gap will increase morale, reduce staff burnout, and provide an increase in productivity across divisions," she said.
Present were Sens. Kurt Vialet, Donna Frett-Gregory, Janelle Sarauw, Dwayne DeGraff, Marvin Blyden, Javan James, Alma Francis Heyliger, Milton Potter, Samuel Carrión, Novelle Francis, Jr. and Carla J. Joseph.