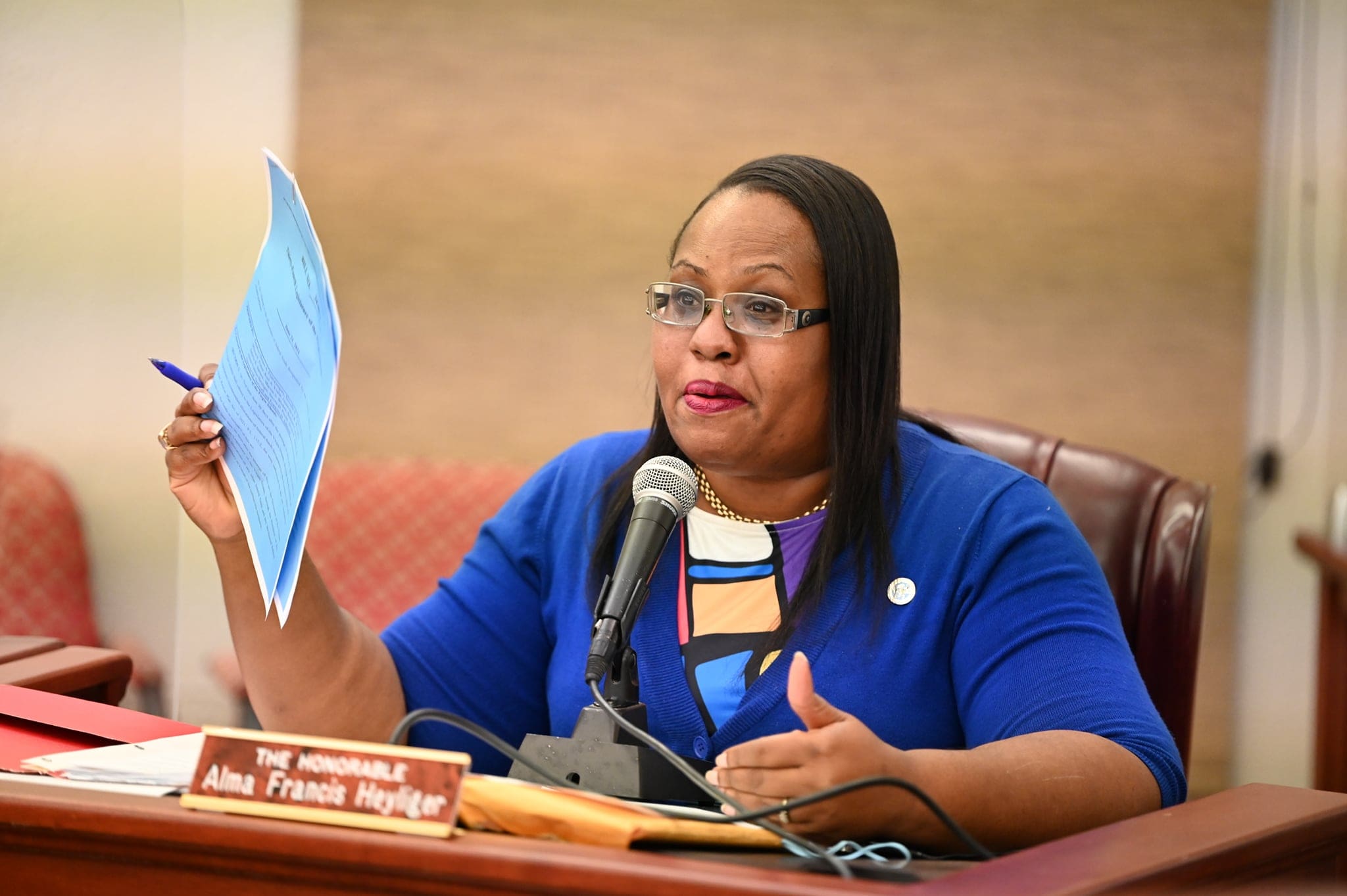 Sen. Alma Francis Heyliger proposes Bill No. 34-0149 during Thursdays Rules and Judiciary hearing. (Legislature photo)
If you are married in the U.S. Virgin Islands, the current law dictates "the wife shall bear the surname of her husband." However, this language may be changed after the Committee on Rules and Judiciary advanced legislation that would entitle either party within a marriage the right to use one another's surname.
The bill's sponsor, Sen. Alma Francis Heyliger, said the legislation was drafted to amend the 100-year-old law that required the obligation of "the female to have to carry her husband's surname."
The antiquated law was written and "rooted in a time where women did not have value. That the minute that they married their husband and took on their surname, during that time period, they became one and all the assets of the female … went to her husband," Francis Heyliger said.
"According to how the law is written, basically what it does is it takes away a women's right to choose simply because they were born female … it should no longer have any place in our books in the territory," she added.
Committee members agreed and Steven Payne Sr. said though "it has been a tradition for like forever that women upon marrying a marrying someone was automatically expected to take a name of a beloved," he supports the right to choose.
"The government for too long has attempted to be the Almighty when it comes to a person's right to choose," Payne said.
The legislation was advanced with the full support of the committee. Aside from the surname bill, the committee also advanced three other pieces of legislation to the full body, held one bill, and advanced one nomination.
Bill No. 34-0070, sponsored by Sen. Samuel Carrion and relating to the remittance of the hotel room tax from sleeping accommodation conglomerates like Vrbo was passed in a 3-1 vote.
Bill No. 34-0107, sponsored by Novelle Francis Jr., relating to the tenure of Assistant Attorney Generals within the Virgin Islands Department was passed unanimously.
Bill No. 34-0073, speaking to allocation and use of federal funds designated for the territory was passed unanimously.
Bill No. 34-0149, sponsored by Sen. Alma Francis Heyliger, seeking the Board of Elections to have official records relating to elections accessible to the public through a cloud-based or electronic service was held by the committee.
Additionally, the committee advanced the nomination of Cindy Richardson to serve as the director of the Division of Personnel.
Sens. Milton Potter, Novelle Francis Jr., Carla Joseph, and Steven Payne Sr. were present for the hearing. Sens. Franklin Johnson, Kenneth Gittens, and Genevieve Whitaker were absent. Additional non-committee members were also present.