This is the first in a two-part series about a federally-funded effort by the V.I. Coastal Zone Management agency to address two issues it has identified as priorities: wetlands and coastal hazards.
For much of the last century, it seemed humanity couldn't get rid of those soggy, smelly, mucky masses of wetlands fast enough – until it became more and more apparent that they were also the sea's nursery, a natural buffer for any landmass, and an island's first line of defense against innumerable harmful incursions.
By that time, a lot of them had been drained and filled and turned into resort developments or had disappeared under residential, commercial and government projects.
A "wetland" is simply "an area that is saturated with water," according to the National Oceanic and Atmospheric Administration, which is the federal lead agency for protecting them. Call them mangroves, marshes, bogs, swamps, salt ponds, or any of myriad designations. Under any name, wetlands serve a variety of functions, including flood and erosion control, filtration of pollutants, and the provision of habitat and food for fish and wildlife.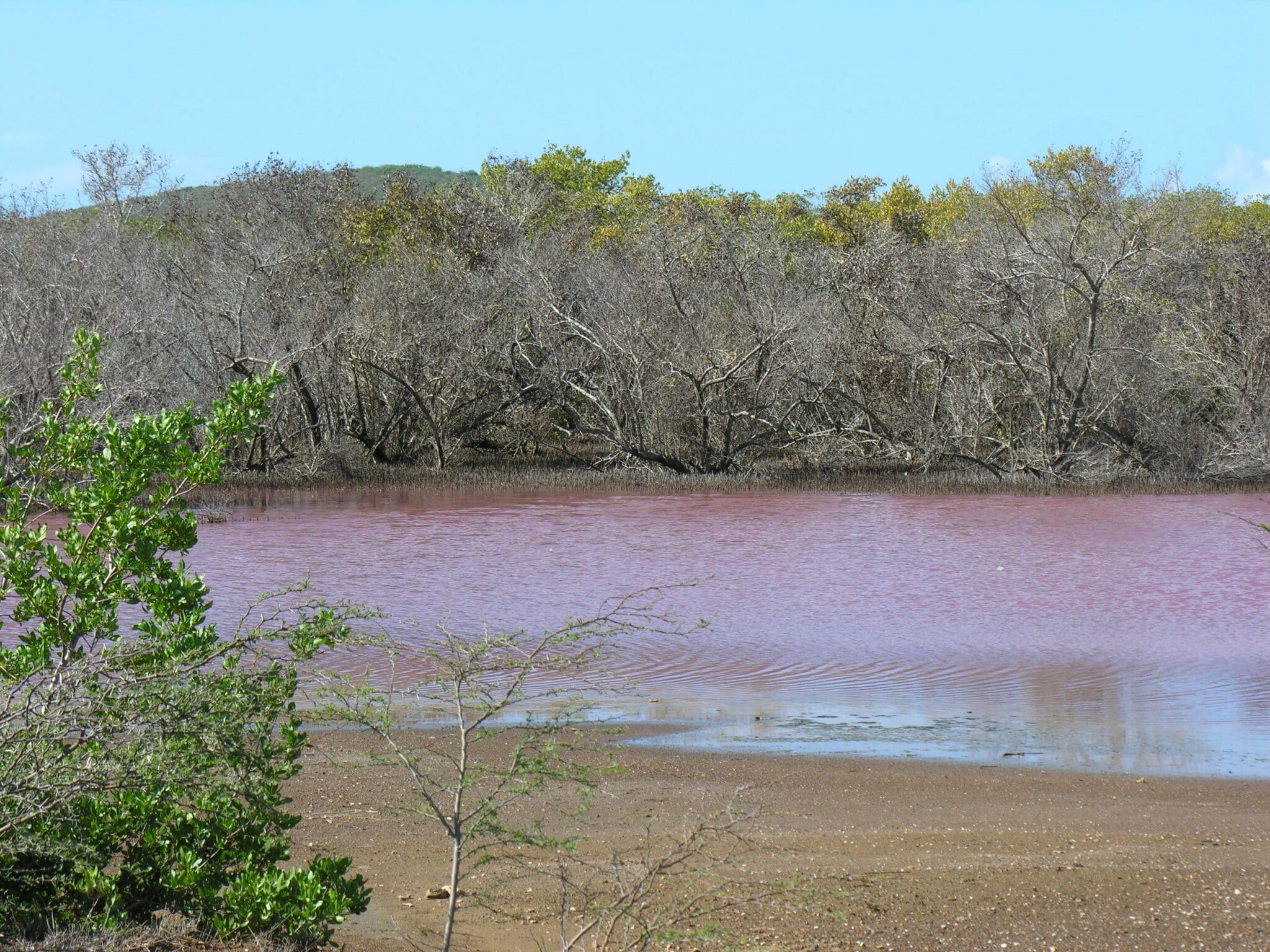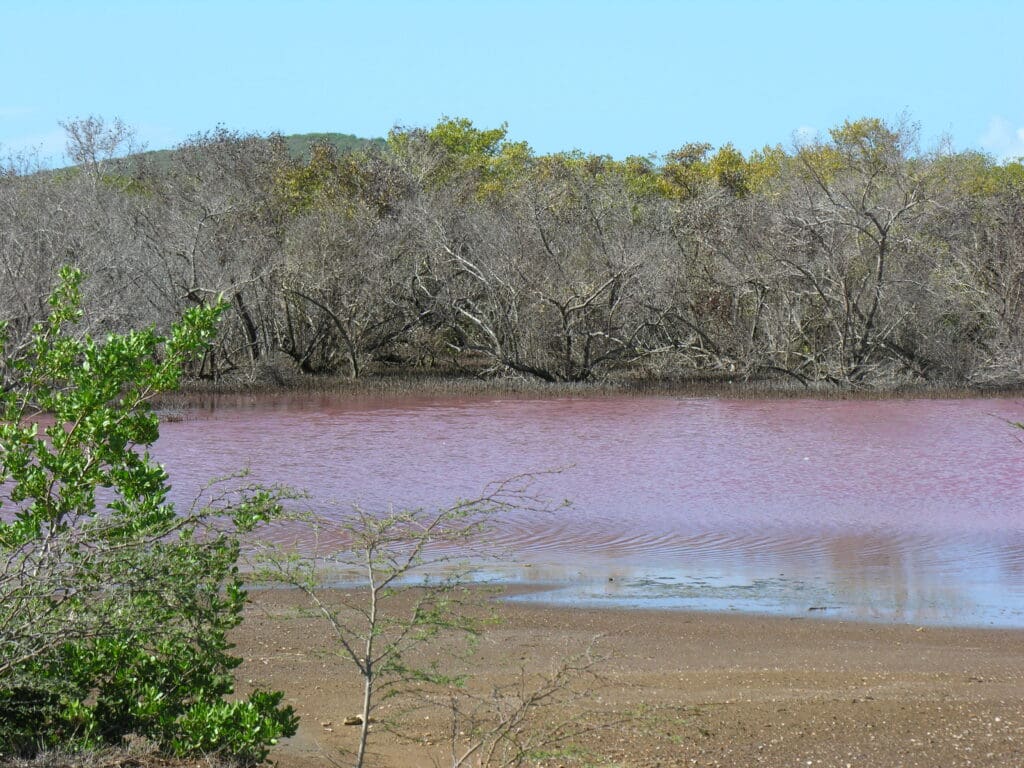 In the Virgin Islands, only "a small portion" of the wetlands that used to embroider the landscape still remains, according to Marlon Hibbert, director of the Coastal Zone Management division of the Department of Planning and Natural Resources.
He would not hazard a guess as to how much is gone or how much remains.
In 2016, using remote data, an online platform called Global Mangrove Watch suggested that then nearly 10 percent of the territory's coastline consists of mangroves, an estimate Hibbert thinks sounds "a little high."
A lack of solid data is just one of the things that he and DPNR are hoping to address under a recent grant approval.
NOAA is providing up to $80,000 annually for three years to help address two areas of concern that CZM has identified as priorities in the territory: wetlands and coastal hazards. The funds are to be used to implement the work plan that CZM presented in a departmental report called the 309 Assessment and Strategy. (A third area identified in the report as a priority, public access to shorelines, is not included in the NOAA grant.)
Hibbert said CZM will use the grant money to hire a consultant, either in-house or on contract, to work on both wetlands and coastal hazards. The Source will examine coastal hazards in a follow-up story.
Concerning wetlands, the report identified the three biggest threats as:
Altered hydrology, either from natural events such as hurricanes or from human activity such as intentionally filling in a marshy area to create land for development
Coastal development, like clearing land and cutting roads without preventing sediment from washing down into wetlands where it could deliver soil toxins and smother seagrass
Pollution from a lack of adequate septic systems
Major hurricanes Irma and Maria that struck in September 2017 resulted in "widespread mortality of trees and wildlife" in mangroves, according to the report. Damage came first from 180 miles per hour winds and from storm surge.
Then there was lingering damage because of salt water intrusion. As Hibbert pointed out, trees inland recovered more quickly than those in wetlands because they didn't have to cope with saltwater. There also was some further damage to the mangroves by recovery efforts, as boats that had been pushed by raging waters into the wetlands were pulled out, disturbing nearby vegetation.
Researchers at the University of the Virgin Islands attached to VI EPSCoR (the Virgin Islands Established Program to Stimulate Competitive Research) are working on an extensive assessment of the hurricane-related damage to the territory's wetlands.
Chemical pollution, much of it apparently from run-off exacerbated by land development, has been documented as a major threat to wetlands.
VI EPSCoR has been tracking changes in the mangrove ecosystem using archival maps and modern technology. Research on the St. Thomas East End Reserves mangrove lagoon (known as STEER) has found "high levels" of contamination from copper, arsenic, zinc, DDT, silver, mercury and tributyltin (TBT).
The last is an additive for paint used on the underside of boats and has been banned in the U.S. since 1988 and globally since 2008. Hibbert said its presence in the lagoon now does not suggest recent use but rather the longevity of the chemical.
The level of contaminants in the East End lagoon is high enough to pose a threat to wildlife and to people who may consume seafood taken from the area, according to the report.
Besides chemical contaminants, the report cites concerns over wetlands pollution from human waste. Typically, sewage comes from private septic systems, from vessels, particularly live-aboard boats, and from municipal sewage systems.
"I think it encompasses, possibly, all three" sources, Hibbert said of the pollution threatening V.I. wetlands. "These (private) systems need maintenance" but often get it only when there is a noticeable problem, not on an ongoing basis. And while the government maintains EPA-regulated sewage treatment plants, the effluent eventually does go into the ocean; if the outfall empties into a bay with little circulation, it can be problematic.
Besides a need for more and more accurate data on wetlands, the report lists three priorities:
Improving the enforcement of existing laws and regulations
Restoring coastal wetlands
Developing a comprehensive wetlands conservation and management policy
These may prove difficult. Previous efforts to develop a management framework have failed, the report states, in part because the rules and uses of wetlands conflict between government programs.
Various frustrations surface in the report.
For example, it states that "DPNR has collaborated with different legislators to revise and enhance the agency's permitting and enforcement capacity," only to have legislative proposals die in committee and their sponsors leave the Legislature without addressing the problem.
In 2020, DPNR introduced a Hotline app designed to make it easy for members of the public to report potential environmental violations anonymously. It trained 21 staffers on its use. The public responded, "but few (staffers) log in to the system to review and respond to reports."
Then there's the case of a wetland parcel of land adjacent to St. Croix's Rainbow Beach, which "recently was converted to a cane field by the Department of Agriculture without CZM consultation," the report states.
But the report also highlights numerous positive activities, most specifically a wide range of ongoing research efforts.
In addition to EPSCoR projects, those include a project by Geographic Consulting to compile geographic information system data for wetlands on St. Thomas and St. Croix and to digitize historic data.
In another effort, DPNR's Fish and Wildlife division is working with various partners to document the impact of the 2017 hurricanes on the wetlands, using detailed surveys of wetland birds and comparing that with data from 20 years ago and from 40 years ago to identify changes and trends. Phase II of that program will include making recommendations for prioritizing wetland areas for restoration, including by engineering methods.
Fish and Wildlife also has federal Environmental Protection Agency funds to update the Virgin Islands section of the National Wetlands Inventory of Puerto Rico and the Virgin Islands.
CZM has also worked with various UVI scientists and researchers on numerous coastal-related projects, including ones to identify areas in the territory that are particularly vulnerable, Hibbert said.
"Given enough time," some wetlands can be restored, he said. It may require replanting mangroves. In some instances, it may require some engineering intervention, for example, cutting under a road to create a method of water distribution to replace water that was drained from an area.
"It can be done and it has been done," Hibbert said.
The efforts in the territory have been relatively small-scale so far, he said. CZM has done a limited amount of replanting. At UVI, there is a mangrove nursery. And a private property owner on the East End of St. Thomas has already restored one area. So Hibbert is hopeful of success.
(Next: The territory faces many Coastal Hazards.)