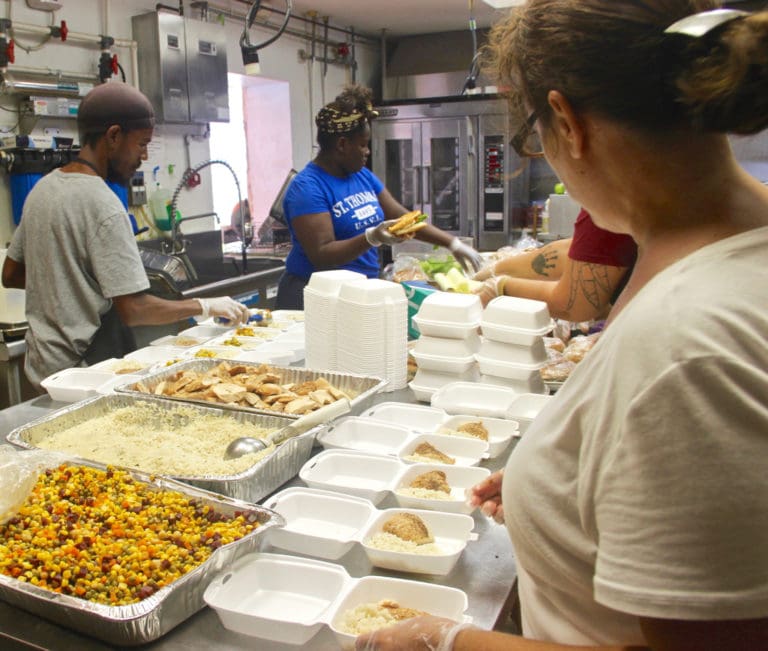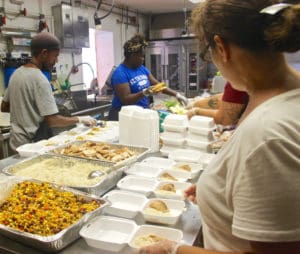 While government officials are advising people to isolate themselves at home, hundreds of Virgin Islands residents wander the streets, sleep in alleyways and congregate in parks. The territory's homeless population, already marginalized, has become even more vulnerable since the COVID-19 pandemic has reached the Virgin Islands.
And those who work to help them are having to get more creative.
"We're not going to shut down our operations," said Andrea Shillingford, executive director of Catholic Charities of the Virgin Islands. "At the end of the day, people still have to eat."
But the agency is taking precautions to protect both clients and staff by limiting physical contact.
CCVI operates soup kitchens on all three main islands and Bethlehem House, a shelter for people who are temporarily homeless, on St. Thomas. The St. Croix Bethlehem House has been closed since the 2017 hurricanes. It also serves those in danger of becoming homeless through things such as assistance with rent and utility bills.
The agency regularly feeds lunch to about 200 people on St. Thomas and 100 on St. Croix, as well as breakfast and lunch to about 40 people on St. John, Shillingford said.
Currently, 21 people are living at Bethlehem House "including two babies," she said. "The shelter will remain open," but it is not taking in any more residents at this time. And the new rule is "no visitors to the shelter right now."
At the soup kitchens, food is no longer served buffet-style. It is plated in individual servings before the doors are open. Clients line up outside, six feet apart, and are allowed in one at a time to pick up a lunch and go with it.
On St. Thomas, where the administrative office is on the second floor, "we try to keep people downstairs" to limit physical contact, Shillingford said.
Getting protective gear for staff is problematic. Although they have gloves since they regularly use those anyway, "masks are not available," Shillingford said.
"We do have two staff who are very good seamstresses," she said, so she bought about 100 yards of material and gave it to them to turn into masks. While not ideal, the Centers for Disease Control and Protection has been promoting homemade masks to deal with the countrywide shortage of commercial ones.
The Salvation Army, which is also on the frontline serving those in need, has adopted similar changes at its soup kitchen in Charlotte Amalie.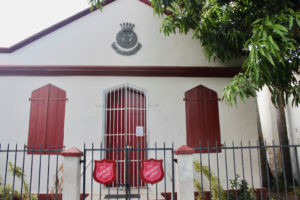 Major Steven Pearl said the group feeds between 100 and 120 on St. Thomas on weekdays. On St. Croix, there is a limited outreach lunch service once or twice a week.
Monday, he said government inspectors were at the shelter to check on operations and be sure that health protocols were being followed. These days clients must enter one at a time and are given a plated lunch which they must take off the premises; previously, they could socialize and eat at tables in the facility.
Pearl said the Salvation Army hopes to continue to offer free lunch, but it has temporarily ceased some other programs because of concerns about the virus. When schools closed, it halted its after school program, which had been offering homework help and recreational activities to about 50 children. It also has closed its thrift store.
Scott Bradley of My Brother's Workshop said it is working to organize outreach services including meals for shut-in seniors.
The group began as a youth job training program, focused on carpentry and construction, but has periodically shifted or expanded its mission to meet other community needs; for instance, it operated feeding programs after the 2017 hurricanes.
In the woodworking workshop, staff and clients routinely use face masks, so, Bradley said, "We're all set in that respect." Staff have also received virus-related training from medical professionals. What he's looking for now is funding.
Money, of course, is needed by all the nonprofits.
At Lutheran Social Services, CEO Junia John-Straker is worried about unexpected expenses caused by the virus.
Best known for its Queen Louise Home for Children, the St. Croix-based agency also provides residential services for seniors and for both physically and developmentally disabled individuals. It has about 200 residential clients who need a wide range of support services and 24-hour care.
It also operates a non-residential program for Head Start children.
Residential services are particularly staff heavy, and John-Straker is struggling to maintain staffing levels and ensure their safety.
She said she has not lost any workers – "Not yet, not yet, thank God" – but many of the staff are young women with families. With schools closing because of coronavirus concerns, these mothers suddenly need childcare services.
"We need them to come to work," she said. This is not the sort of job that can be done remotely. So Lutheran Social Services is now looking for funding for babysitting.
At the same time, she's been shopping for protective gear, hand wipes, sanitizers and all sorts of "things that you didn't budget for," John-Straker said.
"We're not complaining," she said. "But it's really added some stress."
It is early days in the crisis, of course. Health officials throughout the country are predicting it will get much worse before it gets better.
In the territory, "we anticipate more people in need," Shillingford said. "We're already seeing that."