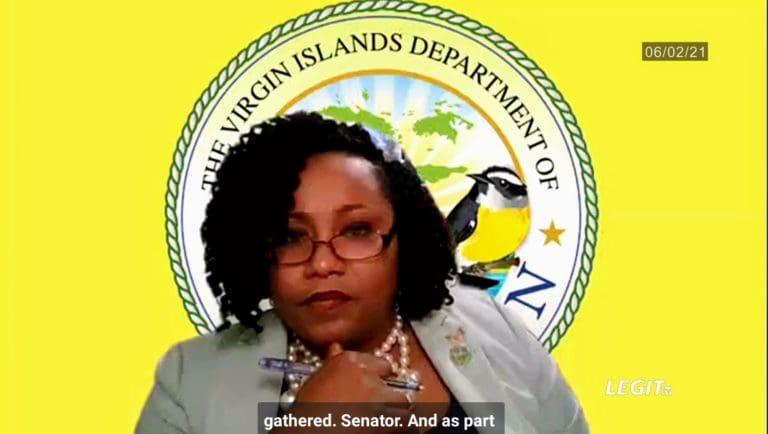 How V.I. schools are still dilapidated when the federal government has granted the Education Department more than half a billion dollars perplexed senators at an Education and Workforce Development Committee hearing Wednesday. Education Commissioner Raquel Berry told the committee the department is managing large sums of federal dollars from a variety of sources, including the Carl D. Perkins Grant, funds from the Coronavirus Aid, Relief, and Economic Security Act and other consolidated funds.
Even though the dollars have amassed, senators on the committee were baffled by the department's lack of progress implementing certain programs and worried about the expiration of federal funds should the department not expend them in time.
"It is a perplexing situation that we are in, but we are grateful for all the funds we are receiving," V.I. Department of Education Deputy Commissioner Ava Penn said. "Our plan is to concentrate on obligating the 2018 and 19 CGA funds which are set to expire September of this year. The CARES funds, we have some time, CARES funds expire 2022, 2023, and 2024 … We have about $11 million [consolidated funds] that we need to obligate by September 30."
To accomplish obligating and expending all federal funds provided to the department, Penn said the department has hired and is continuing to hire additional employees to procure and manage federal funds. But senators remained wary of the department's ability.
"We hope to see the department not send back any federal dollars," Sen. Donna Frett-Gregory said. "I know there is a lot to manage here, but I think it's very manageable. It really just takes a lot of huddling to get this done."
Federal Carl D. Perkins Grant funds which the Legislature, through Act 8374, directed to the Board for Career and Technical Education and the Department of Education for vocational and career readiness programs, have gone unspent and largely unnoticed. According to the department's documents submitted to the legislature, of $2.35 million granted, over $1 million remains unspent.
"The governor signed this on Oct. 26, 2020," Frett-Gregory said. "What are we doing? That's the question. The department has almost half a billion dollars … if you add it all up and include the General Fund dollars you have over half a billion dollars. We have to do better than this."
Berry Benjamin said while "earnest discussions" were occurring between the department and the Career and Technical Education Board, "Today I cannot tell you we have a solid completed plan, but I know for sure we are planning to have a plan."
She added: "I cannot present to you a plan today if it is not completed, but we are in the works of that plan. Our transformation at the V.I. Department of Education is not that of yesteryear, we are also working with the Workforce Development Board in lieu of the Governor's Vision 2040. All of those things are helping us craft what CTE [Career and Technical Education Program] will look like at the Department of Education."
"The conversations are outside of the Department of Education first, before we can finalize our plan. It's a lot of discussion that we're having with the Workforce Development Board, as well as the reading and interpreting of the governor's Vision 2040 and aligning those outcomes to building our curriculum within the V.I. Department of Education.
Senators said they were frustrated by the department's inability to articulate a timeline, deadlines, and finite details for when the program would be executed. "There is some level of frustration because when we have the discussions, the expectation is that as we speak about career and technical education, these kinds of discussions will come out: We are working on establishing X, Y, Z as a result of whatever. But we are just having very surface responses today," Frett-Gregory said.
Sen. Genevieve Whitaker, the committee chairwoman, said the department was consistently leaving out testimony about the Career and Technical Education Board; a board that is one of two boards responsible for the curriculum taught to school children territorywide.
"The time has come in education where we remove all the fluff and the pompous circumstance," Sen. Janelle Sarauw said to education officials. "We're good at video tours and videos and editorials, and it's like we are selling a product, but the meat and potatoes of the department remain absent."
Sens. Whitaker, Sarauw, Frett-Gregory, Kurt Vialet, Milton Potter, and Carla Joseph were present for the hearing. Sen. Kenneth Gittens was excused. Additional non-committee members were also present.