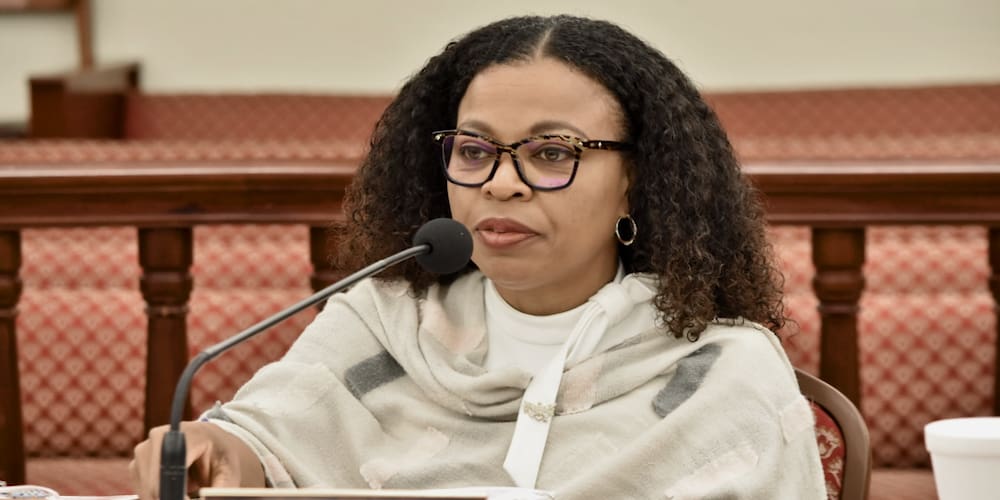 Senators raised objections to a two-year budget, and to how personnel funding for the Office of Management and Budget's personnel was presented, Tuesday, as agency hearings for the 2022-2023 budget got underway.
The unusually large number of employees who are exempt from being part of the government's classified, career civil service employees also raised concerns during the Finance Committee hearing. The budget agency's actual specific spending plans were moderate changes from prior years and less controversial.
This is the first year the government has presented a two-year budget.
Senate President Donna Frett-Gregory (D-STT) objected when Government House first presented the budget, issuing a statement saying the idea "is one that should have been discussed collaboratively due to its impact on Legislative authority."
Several senators raised legal concerns about the two-year budget Tuesday.
Sen. Alma Heyliger said V.I. law requires the governor to submit budget recommendations "for the succeeding year," and asked whether it was correct or incorrect to submit it for two years.
"I will say this: the requirement is as stated in the V.I. Code. What is not being stated is enabling legislation has also been submitted to this body," Budget Director Jenifer O'Neal said.
Heyliger responded that the enabling legislation for a two-year budget has not been enacted.
"As of this moment, does the V.I. Code authorize you to submit a biennial budget?" Heyliger asked. "I am not an attorney," O'Neal responded.
Sen. Kurt Vialet (D-STX) also pressed O'Neal on the legality of a biennial budget, with V.I. law specifying only a single year. Even if the Legislature did enact Gov. Albert Bryan Jr.'s enabling legislation, the Revised Organic Act, the primary federal law setting up the territorial government's form and powers, also says the governor is to submit a budget "for the ensuing fiscal year."
O'Neal said the budget change "was not done with an intent to cause harm to anyone.
"The budget is a plan. … It also helps us with bondholders and investors to show we are looking ahead. That is the reason."
She also said the budget figures are projections that are subject to change and the budget team will be back before the Legislature in the off-year to make adjustments.
Bryan's budget separates the two years, so that it does include a budget for the single ensuing or succeeding year, as local and federal law require. While existing law requires a budget for the following year, neither the local nor the federal law expressly prohibit or mention submitting an additional year at the same time.
OMB Personnel Cost Spike Arouses Concern
Frett-Gregory said the Legislature's post-audit report showed $7 million for personnel wages and salaries for the current 2021 fiscal year, then $17 million for 2022. O'Neal said the total included funds for salary increases across the entire government.
"The amount is inflated, colleagues. We have an apples and oranges conversation," Frett-Gregory said. She said that funding should be put in the miscellaneous section and not under OMB's personnel spending because it appeared to give OMB authorization to spend $17 million to fill vacancies.
"We have no issue in providing the information in the way you would like to see it, but it is correct," O'Neal said.
She also said the actual budget legislation has a separate line item.
High Numbers of Exempt, Political Employees
OMB Associate Director for Administration Carolyn Stokes Smith said the agency had funding for 50 employees, with 16 vacancies and 34 current employees. Of those, 15 are classified employees and 19 exempt. Classified employees are permanent government employees with relative job security, and exempt employees are political appointees who serve at the pleasure of the governor.
Sen. Marvin Blyden (D-STT) asked why so many OMB employees were exempt.
"Historically in the department the only positions that are classified are analysts … the other positions are exempt," O'Neal said.
Sen. Janelle Sarauw (I-STT) said that compared to the federal government, the territory has a much higher proportion of employees who are not part of the civil service, with job security. She suggested moving to more classified employees could help attract more professional staff by giving more employees that job security, and asked if O'Neal had looked into doing so. O'Neal replied, "No senator, that is not something we have considered."
The 2022 budget proposes $40.2 million for OMB for FY 2022 and $45.3 million for FY 2023. That includes $37.8 million from the territory's General Fund, and $2.5 million from the Indirect Cost Fund, composed of federal reimbursements, for FY 2022. For FY 2023, it has $42.9 million from the General Fund and $2.4 million from the Indirect Cost Fund.
Personnel wages and salaries are budgeted at $17.5 million for 2022 and $13.8 million for 2023. Benefits, including Social Security, health insurance and pension contributions are budgeted at $6.3 million and $5.2 million for FY 2022 and FY 2023, respectively.
No votes were taken at the information-gathering oversight hearing. Present were: Blyden, Frett-Gregory, Sarauw, Vialet, Heyliger, Sens. Samuel Carrion, Dwayne DeGraff, Javan James, Kenneth Gittens, Novelle Francis, Carla Joseph,  and Genevieve Whitaker. No committee members were absent.
Editor's note: Sen. Alma Heyliger's quotes here were initially attributed to another senator. We regret the error.