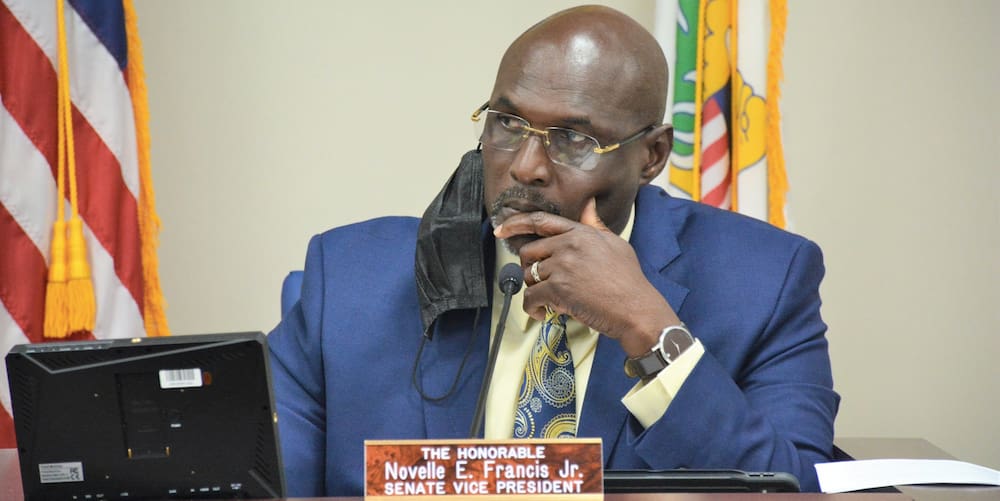 Lawmakers sent two bills out of committee Tuesday, measures to expand and crystalize two separate career pursuits for U.S. Virgin Islands residents – that of a peace officer and those in the beauty service industry.
The two bills were approved by the V.I. Senate Committee on Government Operations and Consumer Protection.
Sen. Novelle Francis Jr. sponsored Bill No. 34-0081, which would overhaul the V.I. Board of Licensing of Barbers, Beauticians, and Manicurists. If signed into law, the legislation would rename the board to the V.I. Board for the Licensing of Barbers, Cosmetologists, Estheticians, Nail Technicians and Natural Hair Stylists, and provide a series of revisions to the code, which Francis said holds sections that have not been updated in more than 50 years.
"In this time the beauty industry has grown significantly to now include aestheticians, nail technicians, natural hair stylists, and other categories that were not established when this bill was first enacted," Francis said. "Unfortunately, this has created limitations for the licensing board which does not have the statutory authority to correctly license or regulate people seeking to practice in the territory."
To address these "limitations" the bill would give the newly named board authority to grant temporary permits, update the categories of service that the board regulates and define those services, instate licensure qualification and requirements, and increase associated licensure fees by no more than 15 percent annually.
All money collected by the board is to be remitted to the Virgin Islands Department of Finance to be deposited in the Consumer Protection Fund.
Department of Licensing and Consumer Affairs Assistant Commissioner Nathalie Hodge said the "licensing of barbering and cosmetology under this chapter has not passed any new rules and regulations since the adoption of subchapter" in March 2004.
"In the past decade and a half, there were many changes practiced that have affected both the barbering and cosmetology professions. These changes have required, in the interest of protecting Virgin Islanders, the setting of higher standards for these licensees that will better reflect our current times and that is more consistent with the best practices on a national level," Hodge said. "Many of the changes seek to strike a harmonious balance between creating opportunities for barbering and cosmetology professionals while also ensuring that the consumers' interests are front and center of the legislation."
Sponsored by Sen. Milton Potter, Bill No. 34-0090 seeks to help expand services to an entirely different career. The legislation will "correct a grave wrong that has been really inflicted on peace officers at various agencies."
If signed into law, the bill would extend the Career Incentive Program to include "all peace officers."
But Division of Personnel Director nominee Cindy Richardson cautioned the committee of using such a broad term.
"The addition of peace officers would expand the CIP program to a much larger number of agencies and would require the expansion of eligible degrees and greater administration of the program," Richardson said.
These eligible degrees are extended to 10 different fields – police science, fire science, criminal justice, criminology, forensic science, fire prevention, accounting, psychology, public administration, and business administration.
"Having dealt with similar situations from a federal perspective," Richardson said she had various recommendations including the formulation of a strong policy, clear selection criterion, verification of accredited educational institution, and auditing.
"These administration requirements can be implemented by Policy Guidelines and Regulations by the Division of Personnel but need to be authorized by the legislation."
Separately, the committee voted unanimously to forward a resolution commending the late Holland Redfield II. If adopted into law, it would award him the Virgin Islands Medal of Honor for Public Service. The bill was sponsored by Sen. Samuel Carrión and co-sponsored by Sen. Steven Payne Sr. Redfield, a six-term senator and longtime voice of the Virgin Islands airwaves, died Sept. 11.
Sens. Carla Joseph, Francis, Marvin Blyden, Alma Francis Heyliger, Javan James Sr., Franklin Johnson, and Milton Potter were present for the hearing. Additional non-committee members also attended the hearing.