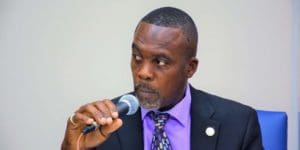 The V.I. Legislature's Ethics Committee held a hearing Nov. 12 to consider disciplinary measures for Sen. Marvin Blyden for violating quarantine requirements after testing positive for the virus that causes COVID-19. According to a release from the Legislature, its Committee on Ethical Conduct, chaired by Senator Milton E. Potter held a disciplinary hearing via a Teams Video Conference regarding charges and specifications filed against Senator Marvin A. Blyden. The release says the committee reviewed documents, took statements, and afforded Senator Blyden, the right to be heard. Final recommendations will be shared with the full Legislature in the form of a formal resolution.
The Legislature reports that Ethics Committee Chairman Milton E. Potter notified Senator Blyden in a written document of the findings and recommended sanctions on November 17. Its release says the Senate will have 15 business days to vote on the disciplinary recommendation.
Potter reportedly said the matter will be handled with fairness and due process. "As the respondent, Senator Blyden is entitled to participate in the debate process. While I can appreciate the public's desire for a swift and public hearing, this is essentially a Human Resources matter governed by the Rules of the 34th Legislature," Potter said in the committee's release. "Much of the process is required to be conducted in private until the recommended sanction is debated, by the Senate," Potter added.
Prior to hospitalization, Ethics Committee vice chairman, Sen. Kenneth L. Gittens spoke to the issue of elected officials holding themselves to a higher standard. "A senator shall conduct him/herself at all times in a manner complementary to the Senate; with dignity and respect for the office we hold," Gittens reportedly said. Gittens was hospitalized Oct. 31 for dangerous blood clots, not COVID-19. He was released a week later. Potter said the resolution will be considered at a scheduled legislative session.
Additional members of the Committee on Ethical Conduct are Sens. Dwayne M. DeGraff, Carla J. Joseph, and Kurt A. Vialet. All members including legal counsel were present for  November 12, hearing. The V.I. Justice Department previously filed criminal charges against Blyden for "willfully exposing the public to a contagious disease" after he tested positive on Sept. 15 for COVID-19.
Blyden pleaded not guilty in court on Oct. 1 and was released on his personal recognizance.
According to court documents, Blyden was under public health orders to quarantine himself after receiving a positive COVID-19 test result. Instead, he left home and attended an event at Tillett Gardens on or about Sept. 18, potentially exposing others to the virus.
Blyden subsequently issued a public apology, saying he would not intentionally endanger anyone's health.