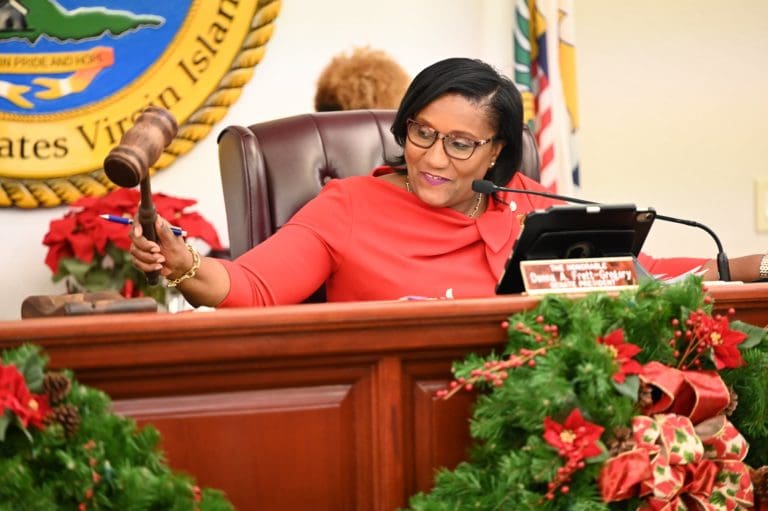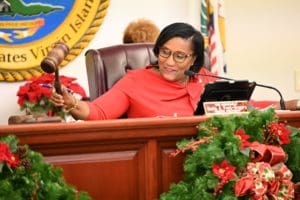 During a session Thursday when they imposed sanctions against Sen. Marvin Blyden for flouting COVID-19 protocols, senators also advanced Cindy Richardson's nomination to serve as Director of the Division of Personnel, two lease agreements, five zoning requests, and eight separate pieces of legislation.
Among the items awaiting Gov. Albert Bryan's signature pen is an appropriation of $280,000 to the University of the Virgin Islands for taxes on backpay from an 8 percent emergency cut in 2011. The Legislature passed the bill along with a nongermane amendment Sen. Kenneth Gittens added relating to gas station licensing and permit regulations.
Gittens said the amendment proposes "gasoline stations holding valid permits for the construction and operations of gas stations from the Department of Planning and Natural Resources before the effective date of this act" would no longer be denied permits or licenses from any other government entity, including the Department of Licensing and Consumer Affairs, as the legislation strips any agencies power to deny.
Should the governor sign the UVI related bill into law, he would also be signing into law the unrelated amendment contained within speaking to gas station licensing and permitting.
Aside from lease agreements and zoning requests, all legislation advanced to the governor is listed below with provided links for additional information on each measure:
Bill No. 34-0035: The Legislature voted unanimously on the measure aiming to strip an antiquated requirement from the V.I. Code that stipulates a wife to bear the surname of her husband.
Bill No. 34-0070: The Legislature voted unanimously to approve legislation which would require "sharing economy" companies like Vrbo to establish an agreement with the U.S. Virgin Islands to remit collected hotel occupancy taxes- much like Airbnb already does.
Bill No. 34-0144: Seeking to wane truancy and student dropout rates, the Legislature unanimously passed  a bill, sponsored by Sens. Novelle Francis Jr. and Genevieve Whitaker. The bill reduces the punitive elements in current law and policy and requires more parental involvement and notification.
Bill No. 34-0183: This measure ratifies an agreement for health insurance between the Government of the Virgin Islands and UnitedHealthcare Insurance Company.
Bill No. 34-0107: With full support, the Legislature approved the bill relating to the tenure of Assistant Attorneys General within the V.I. Department of Justice.
Bill No. 34-0186: Special ordered to the floor by Sen. Kurt Vialet, the Legislature approved a bill amending the V.I. Casino and Resort Control Act to reduce the licensing requirement that a casino establishments have banquet facilities to accommodate 400 persons to 75 persons.
Sens. Marvin Blyden, Samuel Carrion, Milton Potter, Novelle Francis Jr., Alma Francis Heyliger, Donna Frett-Gregory, Franklin Johnson, Janelle Sarauw, Dwayne DeGraff, Kurt Vialet, Kenneth Gittens, Carla Joseph, and Genevieve Whitaker were present for the hearing. Sens. Javan James Sr. and Steven Payne Sr. were absent.