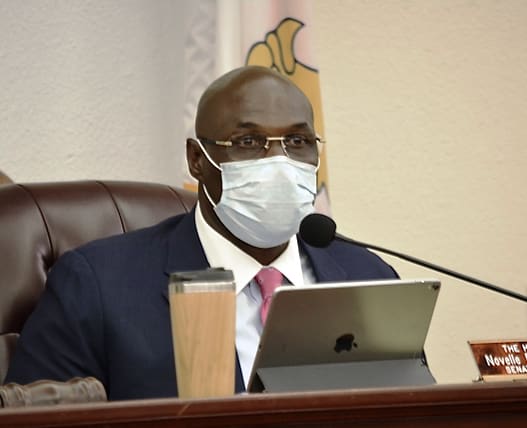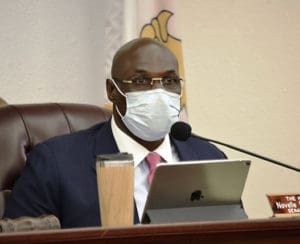 The Department of Health and the Virgin Islands Territorial Emergency Management Agency spent Wednesday's Senate Committee of the Whole meeting answering dozens of pandemic-related questions the lawmakers came armed with.
Many of the senators' questions have already been raised by the public, a public that has been adamant about demanding answers on social media.
Below is a list of those community questions and the answers given by VITEMA and Health Department officials:
– What kinds of tests are there and what do they do?
There are a couple different tests DOH Territorial Epidemiologist Dr. Esther Ellis said are used in relation to COVID-19. Among them are the PCR test, which detects the presence of the virus and is important for contact tracing to figure out who else might have been infected. And there is an antibody test, which confirms if a person has had the disease in the past but recovered, and may therefore have some immunity if exposed again.
– What kind of strain of the disease are we experiencing in the territory?
"As it relates to the virus that has circulated called SARS-COVID 2, we know there is only one strain. There are many different coronavirus strains, but right now as it is all the coronavirus that is causing COVID-19 has been identified as one strain," DOH Medical Director Tai Camille Hunte-Ceasar, M.D. said.
– What is the shelf life of test kits?
There is some shelf life to the reagent supplies, Ellis said, and the supplies are being used well before the expiration.
– Do hospitals have enough test kits?
Health Commissioner Justa Encarnacion said 1,500 sampling kits arrived on Monday and there is an adequate supply of test kits.
– Is the territory prepared for a surge of COVID-19 cases as businesses begin to open?
Ellis said it was always expected there would be an uptick in cases as people start coming more into contact with each other, and the hospitals have prepared with additional supplies, beds and testing capabilities.
– Has any patient been re-infected?
There have been no cases of anyone re-infected in the territory, Ellis said.
– Who is responsible for quarantine compliance enforcement?
Encarnacion said DOH and the governor have the power to enforce the law but have not had to do so.
– Are EMT's and emergency personnel being tested for COVID-19?
EMT's have been tested in the past and if an EMT experienced symptoms they would be tested, Encarnacion said.
– How many people daily have been flying into the territory?
Virgin Islands Territorial Emergency Management Agency Director Daryl Jaschen said around 30 to 40 people since hotels have stopped booking reservations.
– What protocols are in place to ensure public health once welcoming back cruise ship passengers?
If anyone comes off a cruise ship that is symptomatic, they are tested, Ellis said. There have been no positives so far that have come from the cruise ship population.
– How long can you safely wear a mask for?
There is no finite amount of time but rather people should wear their masks, Hunte-Ceasar said. N95 masks are engineered for proper ventilation and extended use of time.
– Approaching hurricane season, in the event of a disaster what will be done with individuals seeking shelter who are sick?
"Non-congregating housing" is being used where COVID-19 patients will be sub-quarantined and away from those of the general populous seeking shelter at that time, Encarnacion said.
– Are elective surgeries now being permitted?
Outpatient procedures can reopen but hospitals have not yet reopened elective procedures, Hunte-Ceasar said.
– How will schools be reopened and will students need to wear masks?
Encarnacion said DOH and Department of Education will have to confer together to determine when school will reopen and what protocols will be put in place for students to protect them.
– Does the novel coronavirus affect livestock?
There has been no documented COVID-19 transmission from a livestock transfer of the virus to a human other than the origin of it passing from a bat, Ellis said. The livestock in the territory is not in jeopardy.
– Have patients been able to be medically evacuated during the pandemic, whether being a COVID-19 patient or otherwise?
There has only been one delay in attempts to medevac a patient from the territory, Encarnacion said. All attempts made to medevac patients have been successful, she added.
Senators present for the meeting were Novelle Francis Jr., Myron Jackson, Alicia Barnes, Oakland Benta, Marvin Blyden, Allison DeGazon, Dwayne DeGraff, Donna Frett-Gregory, Kenneth Gittens, Stedmann Hodge Jr., Javan James, Steven Payne Sr., Janelle Sarauw, Athneil Thomas and Kurt Vialet.