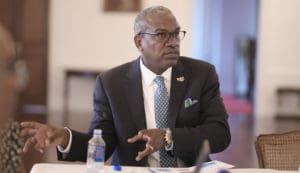 With less than 24 hours notice, Friday afternoon Gov. Albert Bryan Jr. called the Legislature into an emergency meeting Saturday, Dec. 21, to discuss "matters related to the V.I. Water and Power Authority."
Calls and emails to Government House were not returned immediately and the reason for the meeting was not detailed in the governor's press release.
On Tuesday, WAPA petitioned the Public Service Commission for a very large increase to the fuel surcharge, saying without the 2.5 cent base rate hike the Public Services Commission denied on Dec. 12, WAPA will default on its debt to Vitol, cutting off propane and forcing it to revert to oil, which will jack up the cost of fuel by 20 cents per kilowatt-hour. Without either a fee to pay debt service to Vitol, an increase to the base rate or a jump in the LEAC, WAPA will be unable to buy sufficient fuel, forcing blackouts, according to WAPA officials and arithmetic.
The territory has a long history of ultimately costing ratepayers more as a result of trying to save them money and avoid unpopular decisions by starving WAPA in the short run.
Click the links to see reports documenting this pattern repeating again and again over the past two decades:
V.I. OWES WAPA $30 MILLION
WAPA Budget Shortfall is $40 Million; Government Debt to WAPA, $41.2 Million
GOVERNMENT'S WAPA BILL TOTALS $22.6M
V.I. Debt Blamed for WAPA's Inability to Pay Hovensa
WAPA Borrows to Pay What It Owed Hovensa
Deferred Fuel Costs Hurting WAPA Maintenance
Stagnant Rate Leave WAPA at Risk of Running Out of Fuel, Officials Say
PSC Board Approves Compromise LEAC Increases
PSC Board Approves LEAC Decrease
PSC denies LEAC Increase