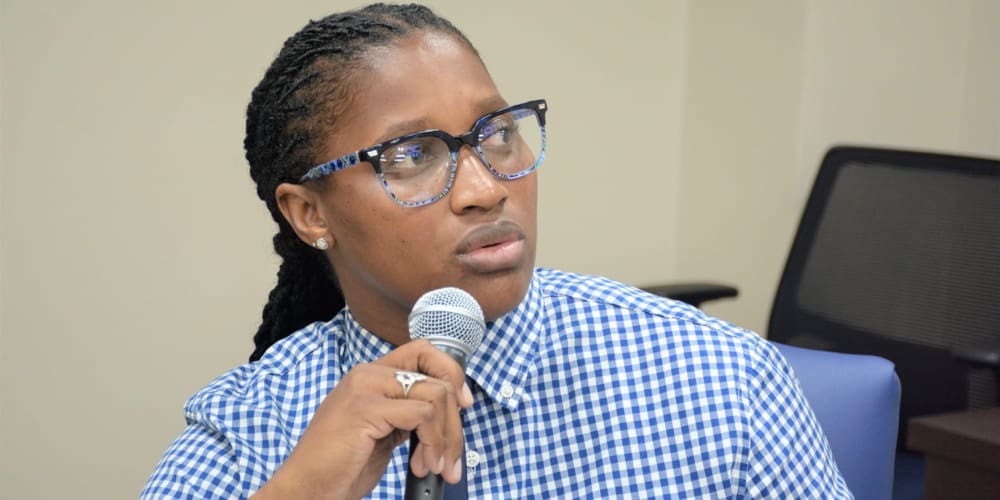 The Senate Finance Committee on Thursday approved a bill that could allocate $100,000 from the St. Thomas Capital Improvement Fund to the Humane Society of St. Thomas, creating a public-private partnership that would help the organization construct an animal clinic to treat the island's burgeoning animal population.
The bill's sponsor, Sen. Janelle Sarauw, said the island's overpopulation of stray animals can lead to large problems if not corrected, and "if you have a million stray dogs and cats, it does pose a threat to public health."
Sarauw said she realized from personal experience how many U.S. Virgin Islanders do not have animal insurance or cannot afford both the necessary and sometimes emergency care for their pets; yet the Humane Society still assists low-income pet owner's as much as possible.
"A lot of people are in that category and need help. We do not have a mechanism to address the basic primary care of cats and dogs," Sarauw said.
Some committee members argued the legislation was not as important as other efforts, such as education or senior facilities, while Sarauw and the testifier's argued animals are just as much a part of our society. Sarauw added that many types of legislation can be worked on simultaneously and the appropriation amount does not dictate the level of importance the bill holds to the community.
"We have a moral responsibility to take care of those living, especially those who cannot speak for themselves, our children and animals," Humane Society of St. Thomas President Dellia Holodenschi said. "While there are over a hundred public and private local programs to assist our human population there are only a handful of V.I. animal welfare organizations to assist the many thousands of owned and community animals."
Holodenschi said other tourism-based Caribbean destinations "have ignored animal welfare and have allowed stray animals to aimlessly wander about and reproduce. This inaction has led to an unsightly impression for visitors. We cannot allow this to happen to our beautiful Virgin Islands."
Annually, the Humane Society cares for 2,000 abandoned animals. Holodenschi said many come in sick, starved, diseased, severely injured or victims of neglect, and require professional veterinary services.
The animal overpopulation has become so severe that the animal shelter is in need of a properly equipped wellness clinic and affordable companion-animal care, Holodenschi said.
"We are indeed at a crossroads when it comes to dealing with animal welfare in St. Thomas," Holodenschi said. "Despite our best efforts to provide care and rehabilitation for our animals and find homes locally and stateside through off-island no-kill shelters, the flow of abandoned animals continues into our facility built to hold 40 dogs and 70 cats. It was never intended to reach a capacity of over 200 at times which far surpasses animal welfare guidelines."
Should the legislation pass, it would help fund what is being called the Corinne Lockhart Education Center & Wellness Clinic, which would boast a veterinary services program with far greater capacity than the current animal shelter.
The bill was advanced by the committee and forwarded to the Senate Committee on Rules and the Judiciary for continued review.
Sens. Marvin Blyden, Samuel Carrion, Donna Frett-Gregory, Dwayne DeGraff, Javan James Sr., Sarauw and Kurt Vialet were present for the hearing. Additional non-committee members also attended the hearing.