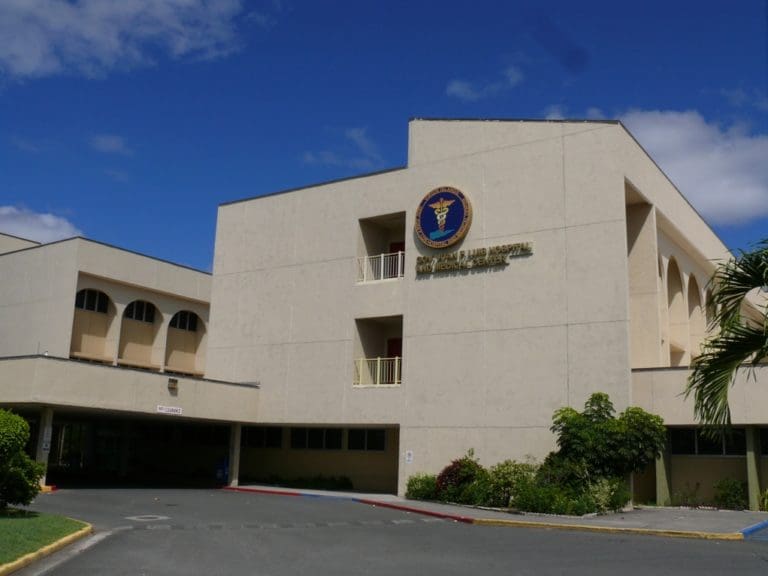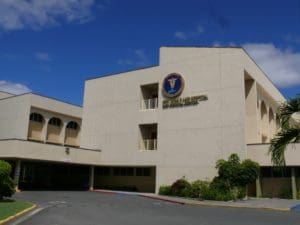 Tens of millions of dollars in uncompensated care continues to strain the budget of St. Croix's Juan F. Luis Hospital, JFL officials told lawmakers Tuesday, with violent crime-related injuries and long-term boarders incurring some of the higher-cost, unpaid medical services.
"We are in a bit of a quandary as far as pursuing those individuals for those very high healthcare costs but we are obviously making the effort," said Chivonne Thomas, legal counsel for the hospital.
Thomas was part of the executive team, led by JFL acting Executive Director Dyma Williams, that defended the hospital's $39.9 budget request during a Senate Finance Committee hearing at the University of the Virgin Islands Great Hall on St. Croix. Gov. Albert Bryan's submitted V.I. government budget for Fiscal Year 2020 proposes a much smaller $22 million.
In Fiscal Year 2018 alone, of the hospital's total uncompensated care costs, self-pay individuals who failed to make payments for services ran up a combined debt of $12.2 million, of which only $965,000 was recouped. The remaining $11.3 million, combined with some $28.5 million in unreimbursable Medicare and Medicaid costs, amount to $39.8 million in uncompensated care, almost the same amount as the hospital's budget request for Fiscal Year 2020.
According to Williams, while the hospital has a list of top emergency room concerns, the hospital has not connected those visits with a dollar amount that might help them map which concerns represent the most uncompensated care. Committee Chairman Sen. Kurt Vialet (D-STX), however, said violence in the community significantly impacts these costs.
"A large part of the uncompensated care is the direct result of the violence in the community," Vialet said. "We just continue to turn our heads, just act like this has become a norm and it's supposed to be accepted."
Vialet pointed to the June 23 shooting at Rainbow Beach in Frederiksted that saw multiple victims transported to Juan Luis Hospital. Two victims had to be airlifted to a mainland healthcare facility to the tune of $22,000 per person, according to hospital officials, a cost likely to be borne by the hospital.
"As long as the violence continues in this community we're endangering the entire island and we're accumulating a tremendous amount of unnecessary cost," Vialet said.
Pursuing these collectibles, however, faces certain hurdles, according to Thomas.
"As far as recouping from the victims, there is the possibility for garnishment in the future, but of course those individuals tend not to use bank accounts so that's usually not an option," she said. "There is an opportunity to also sue them through the use of small claims courts, but of course, usually those individuals are hard to catch up with."
Juan Luis Hospital is also dealing with long-term boarders, including one individual who has been in the hospital since October 2017. Long-term boarders, individuals abandoned in the hospital by families or guardians, can cost the hospital roughly $1,800 a day per individual, according to Williams. There are currently five long-term boarders in the hospital: one occupying one of 16 emergency rooms, and four occupying four rooms out of 23 inpatient care rooms.
Williams said the hospital has made contact with the Department of Human Services regarding the five boarders, but the solution might entail sending them off-island since the territory lacks a licensed long-term care facility. Juan Luis Hospital is not licensed in this field, and since the boarders stayed beyond 30 days, their medical care is no longer considered a medical necessity, according to Williams, saddling the hospital with the cost of care.
When asked if Juan Luis is working on legislation that would enable the hospital to go after Social Security benefits of a person under its care, Thomas said yes.
"It's really, really bad for somebody to actually be receiving some of these Social Security or retirement checks and not checking on the person at all, because if you're doing that, then you don't deserve it," Vialet said. "The entity that's putting in the care needs to be the entity that receives that particular compensation."
On top of problems with uncompensated care, Juan F. Luis Hospital is also facing outstanding debt in the amount of $54 million as of June 25. Of that amount, roughly $11.5 million is owed to the Water and Power Authority, a debt that the recently passed Medicaid windfall bill should take care of. The hospital also owes $9.8 million to the Bureau of Internal Revenue, $7.8 million to the Government Employees Retirement System, $8.5 million to Advanced Radiology and $4.3 million to Worldwide Travel Staffing.
This fiscal year, Juan Luis Hospital is requesting $39,930,265, an almost $18 million increase over Gov. Albert Bryan's recommended budget of $22 million, which is already 10 percent more than last fiscal year's budget.
Frederiksted Health Care
Masserae Webster-Sprauve, chief executive officer of Frederiksted Health Care, Inc., painted a similar picture of the effects of uncompensated care on the community health center's finances. As a federally qualified health center, the nonprofit serves medically underserved, underinsured, and uninsured patients on St. Croix, with almost half of their clients on Medicaid, 13 percent on Medicare and roughly 27 percent uninsured.
"Without our services, these families would need to choose between the necessities of food, shelter, clothing or health care," Webster-Sprauve said. "No one in our community should be forced to make that terrible choice."
Webster-Sprauve told lawmakers that her budget request of $2.64 million for the community health center is neither relief nor subsidy, but the government's local reimbursement match for an estimated 16,926 Medicaid visits. Frederiksted Health Care receives Medicaid reimbursement in the same way as the territory's hospitals. For Medicaid-eligible services, the Centers for Medicare and Medicaid Services pays the center 55 percent while the local government shoulders the remaining 45 percent.
The $2.6 million budget request is the local match for this year's expected CMS funding of $2.8 million. Bryan's recommended budget, however, is only $2.15 million, in line with the previous year's budget recommendation. The Senate, which has its own post audit division to analyze each agency's finances, has the ability to adjust the governor's recommended amounts.
Among Frederiksted Health Care's goals for this fiscal year are providing some 40,000 medical services, going after additional grant funds, continuing services to the homeless community and expanding its behavioral health care services.
Present for the Senate Finance Committee Hearing were Sens. Marvin Blyden (D-STT), Oakland Benta (D-STX), Janelle Sarauw (I-STT), Donna Frett-Gregory (D-STT) and Wayne Degraff (D-STT). Non-committee member Sen. Allison Degazon (D-STX) was also present.