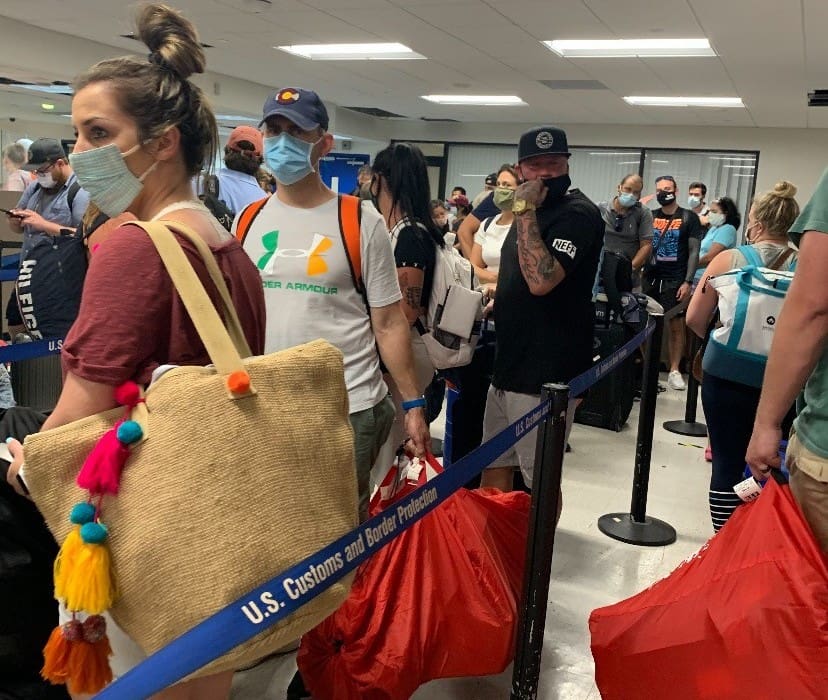 Travel into the U.S. Virgin Islands during the COVID-19 pandemic is increasing, and Port Authority Executive Director Carlton Dowe said Cyril E. King Airport is running at three times the capacity its facilities were originally built to handle.
During Wednesday's monthly Port Authority board meeting, held at the authority's administrative offices adjacent to the airport, Dowe glanced out the window at the tarmac and said, "In a minute jets will start landing and it's like J'ouvert morning at the airport."
While Dowe acknowledged the influx of travelers into the territory is "not a bad problem to have," he said the situation demands attention from both local and federal instrumentalities, and investments are needed in the aging airport to keep up with heavy demand from vacation-starved visitors.
"That's why it is important for all the government entities, counsel, the federal government, everybody to recognize and understand that this airport was designed to accommodate 300,000 passengers when it was constructed many years ago," Dowe said. "Today we are seeing close to 900,000 people going through the very same footprint that was designed to only accommodate 300,000 people."
While additional funding may be needed, the Port Authority has begun spending the $27 million it received last year as a grant from the U.S. Department of Commerce's Economic Development Administration to begin new construction on the Cyril E. King airport. Nearly all the funding, $20 million, is being used for a parking and transportation center that will provide nearly 700 parking spots, in addition to a designated location for ground transportation and a location allocated solely for rental cars.
Port Authority Assistant Executive Director and Director of Engineering Damian Cartwright has previously told the Legislature that Cyril E. King Airport renovations alone will cost an estimated $250 million.
But the airport on St. Thomas is not the only one bustling with visitors.
"It's interesting what you see at St. Croix," Dowe said while directing meeting attendees to a photograph taken at the Henry E. Rohlsen Airport. "You can see what the line looks like and it makes the expansion very critical."
"We're seeing an uptick on the [airlift] and an uptick on activity at the St. Croix airport itself … we don't see that too often," Dowe said.
While board members seemed encouraged by the arrival of tourists flooding into the territory, Dowe said the authority must confront the need for funding head-on.
"The challenges are real, and they will be there," Dowe said. "But we just have to make the best, but we definitely have to get that kind of funding, that investment. That investment must come not just from local government, but the federal government must play a critical role to help us expand."
Separately, the authority's board ratified a property insurance renewal; ratified a six-month agreement with Sustainable Capital Advisors, LLC; approved a five-year contract with O'Neale's Trucking & Trailer Transport, Inc.; approved a lease agreement with the Virgin Islands Regulate Waste Management, Inc.; and approved an update of the authority's personnel rules and regulations.